Edy's Vehicle Physics brings realistic and fun vehicles to your games in Unity 5! Designed for gameplay, ease of use, and realistic behavior.
Actual status:
Edy's Vehicle Physics 5.0 beta for Unity 5 has been submitted to the store for review and approval.
Documentation for the new package is now being written.
Stay tunned for updates! Follow @VehiclePhysics on Twitter.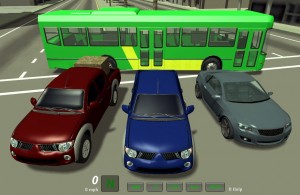 Features:
Fixes the WheelCollider problems in Unity 5
Reliable tire friction simulation
Coherent component design for ease of use
Fully working demo scenes and vehicles
Ready-to-use vehicle prefabs included

Do you need strictly realistic vehicle physics in your project? Then check out Vehicle Physics Pro!